More information about Island Pacific School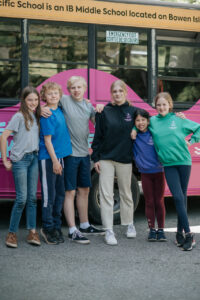 Middle School Matters! IPS is exclusively committed to middle years transition: the programs, challenges and opportunities that adolescents need to become persons of character. During the middle years, schools can either lose students or set them up for the rest of their lives. Located on Bowen Island, BC, Island Pacific School (IPS) is uniquely designed to give grade 6-9 middle school students a distinctly different education: one that challenges and surprises them to become the very best of who they are. IPS is an IB Middle Years Program school with a liberal arts curriculum supplemented by frequent excursions and expeditions.
Kids like it here: located on Bowen Island, BC in a safe, island community, IPS is a place where young people can be themselves. Small by design, IPS has a total of 70 students in 4 classes of 16-18 students. Motivated teachers collaborate across subjects to connect students with related content from different perspectives. Students work with a small team of faculty to understand ideas through different lenses. Teachers consult with each other to bring out the best in each student.
Distinctly different: IPS' 4 year program culminates in Masterworks. Self-selected, self-directed, and self-presented, the Masterworks independent study project is compulsory for every Grade 9 student and marks a significant academic achievement at IPS.Students are mentored through the process by expert advisors — leaders in their respective fields — who act as external advisors. Working collaboratively with IPS faculty, advisory committees guide Grade 9s through the Masterworks process that puts students at the centre of their learning.
All Schools